Compatible with mobile devices.

This webinar introduces you to the options of supplying of safe drinking water in off-grid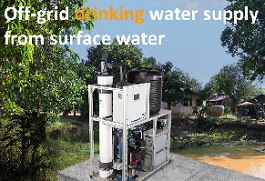 areas based on available surface water resources, such as lakes and rivers. The webinars review the relevant treatment processes, incl. media and membrane filtration as well as disinfection technology. We will couple this with the relevant application consideration, especially solar-powering and how to setup effective operations & maintenance through online management.
This will enable you to make accurate, robust and application-relevant project design to ensure water supply schemes that are financially and operationally sustainable. While this webinar will not completely make you an experienced specifier/designer, it will take you a long way in understanding the basics of this subject.